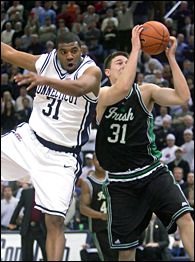 The Irish beat St. John's last night 68-55.  Notre Dame is now the first team in the history of the Big East conference to go two full seasons without losing a game at home.  The streak is now at 37, the second longest active streak, and will remain that way for at least another 250 days.   
Harangody scored 20 for the Irish and only had 6 rebounds.  There is two reasons for the lack of rebounds.  One, it was very evenly spread with everyone getting rebounds and two, the Irish defense was so good. Even the Red Storm head coach commented on how strong the Irish defense was. 
Kurz had 15 and ended his career in the Joyce Center with another consistent performance.  Contributed 15  points in the win.  A great way to end it all. No doubt about it, Kurz will be missed next year and someone new will have to step into that leadership role.
McAlarney had 13 points.  A Solid effort considering how tightly guarded he was all game. 
This game win was important and so will a win over South Florida. The Irish want the best record they can get before Selection Sunday comes along.  I am thinking a 4 seed right now.  However, we could see this seed either drop or higher based on how the Irish do in the Big East Tournament.  Speaking of the Big East here is the standings now:
I am concerned about UConn because if they tie Notre Dame they will get the higher seed in the Big East.  And its always better to be the 3 seed because then you would probably see the 2 seed instead of being the 4 and seeing the 1.  However, I really would not want to see either Georgetown or Louisville.  Saturday is the Big East title game, Louisville vs Georgetown and then it will be decided what team will play who in the Big East. 
-stuart-